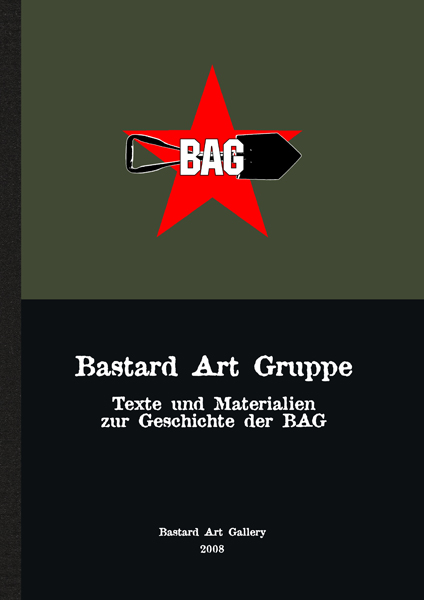 Texte und Materialien zur Geschichte der BAG Bastard Art Gruppe
This book compiles a number of texts and reports written by DDV on his project "Diggin' for Gordon" which evolved into the "Bastard Art Gallery" and in a later stage into the "Bastard Art Gruppe". Each original document reprinted in this book comes with an annotated version of the same text with additional footnotes wherein every significant detail is explained either with encyclopedic information about people and/or facts, with related details about other DDV projects, or with additional noteworthy tidbits related to the given information.
With her treatise "Die Rote Armee Aufbauen", a declaration on the liberation of Andreas Baader of 5 June 1970, Ulrike Meinhof made clear that she had given up her life of pleading, discussing, argueing and writing to no avail, and was starting a campaign of urban guerilla: "Die Klassenkämpfe entfalten – Das Proletariat organisieren – Mit dem bewaffneten Widerstand beginnen – Die Rote Armee Aufbauen!".
With a declaration about a bomb-attack on the buildings of "De Standaard" and an attack on Florent Bex, we have chosen to organize armed resistance to the institutional violence opposed on contemporary artists in art institutions. It was the start of our campaign as the "Bastard Art Gruppe". During this campaign there were more revendications, performances, declarations and threats. We also intervened during debates, and even uninvitedly questioned the Minister of Culture about representation of artists in board of cultural institutions and the abuse of artists in art institutions subsidized by the Ministry of Culture.
At some points we have won, at others we have failed. With the publication of this book we want to set things straight about the history of the "Bastard Art Gruppe", and – most important – keep things in hand ourselves. No recuperation by the art museums, the art institutions, the art curators, the art historians, the art critics, the art magazines, the art galleries and the art dealers.

As of 18 October 2008 all copies of the original edition have been sold out.
However! A second edition including all of the original text, images and footnotes in original layout and colour is now available in paperback by means of Print-on-Demand by WWAOW.
You can order your copy here: www.shopmybook.com